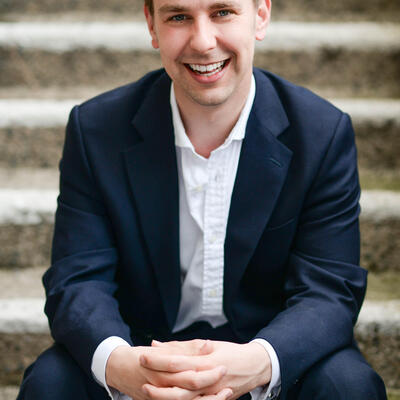 Baritone, Principal Accompanist
www.laurencewilliams.org
Acclaimed for his eloquent singing and lush tone, Laurence Williams is an international bass-baritone soloist, specialising in oratorio singing. He was runner-up in the 2019 Patricia Routledge National English Song Competition.
Recent highlights include: Bach's Mass in B Minor with the Slovenian Philharmonic Orchestra; the world premiere of Stephen McNeff's The Waking Shadows with Canticum Choir at St Martin-in-the-Fields; Bach's St Matthew Passion with Stephen Layton and the Auckland Philharmonia, broadcast live on Radio NZ, and Haydn's Nelson Mass with John Butt and the Orchestra of the Age of Enlightenment.
Laurence trained at The Guildhall School of Music and Drama, and graduated with distinction and a Concert Recital Diploma in 2017. He is widely praised for his lyrical tone and engaging communication of narrative. He was a finalist in the 2018 London Song Festival Masterclass. Recent operatic roles have included Colline in Puccini's La Bohème, Mr Gedge in Britten's Albert Herring (both for Hampstead Garden Opera), Smirnov in Walton's The Bear (Cambridge Opera Society and Leeds Chamber Ensemble), and Various Opera Scenes (The Guildhall School of Music and Drama).
Laurence is a sought-after musician in the United Kingdom, active with choirs such as The Monteverdi Choir and Polyphony. He is passionate about introducing young voices to choral music and has extensive experience directing choirs.
London Concert Choir concerts: