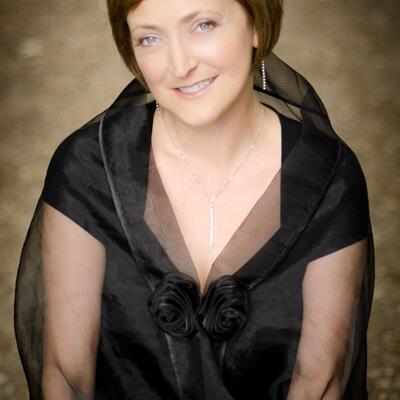 Mezzo-Soprano
Described in The Sunday Times as 'a lustrous mezzo soprano' and now specialising in contemporary song, lieder and oratorio, Susan regularly broadcasts on radio and has given recitals at the Wigmore Hall, Purcell Room, St. John's, Smith Square and opera galas at St. James's Palace and British Embassies in Moscow, Copenhagen, Lisbon and Stockholm. Oratorios have taken her to Durham, Chichester and Arundel Cathedrals, Romsey, Dorchester and Worth Abbeys, and Spitalfields and Cadogan Hall, London.  Operatic engagements included Glyndebourne, Bayreuth, Wexford, Aldeburgh and the Walton Trust, Ischia.  Susan has performed all Elgar's works, Bach's Passions, Verdi and Mozart Requiems, Beethoven's Ninth Symphony and Missa Solemnis, and toured Handel's Messiah in Mexico.
Susan's voice – which legendary mezzo Christa Ludwig described as 'beautiful … with a fine coloratura' – can be heard on many films and award-winning video games including the number one game Project Cars for composer Stephen Baysted.  An accomplished pianist, Susan recently recorded and co-composed the soundtrack for the feature film The Impressionists ('dazzling' Sydney Arts Guide) and Laurie Dunkin-Wedd's musique concrète score Brancusi for solo mezzo and industrial sounds. 
Projects with pianist Ann Martin-Davis encompass commissioned song-cycles from Graham Fitkin, Howard Skempton and Gabriel Jackson and an International tour of Mr James' Garden, celebrating Edward James's surrealist Mexican garden Las Pozas. Their CD Heaven-Haven - The Songs of Peter Pope followed a definitive Lutosławski chamber music recording, described as 'beautiful and exquisite' by BBC Music Magazine. 
Susan won the National Mozart Singing Competition whilst still a student at the
Royal College of Music and other accolades since completing her training at the National Opera Studio are: Richard Tauber Schubert Society Prize; Tillett Trust's Young Artists' Platform; Kathleen Ferrier Awards; Belvedere International Singing Competition, Vienna (finalist); and British representative in the Queen Sonja International Music Competition, Norway.