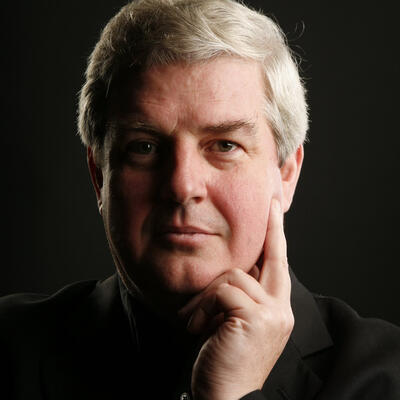 Bass Baritone
Michael R. Bundy, a music graduate of Trinity College, Cambridge and the Guildhall School of Music and Drama, has performed widely in diverse genres. He has appeared as soloist with groups such as The Sixteen, The Orchestra of the Age of Enlightenment and has a continuing relationship with the BBC Singers. 
His operatic repertoire exceeds forty roles and he has sung with English National Opera, Kent Opera, Scottish Opera, the Royal Opera, Mauritius Opera, and the Narodni Divadlo in Prague. He appeared with Theater Basel in Actus Tragicus and performed with Opera Restor'd and the Akademie für Alte Musik Berlin in Lampe's comic opera The Dragon of Wantley at the Potsdam Festival.
His Oratorio repertoire is catholic, and broadcasts for BBC Radio 3 include Bonnal's oratorio Poèmes Franciscains. Work with Trevor Pinnock has included Bach's Saint Matthew Passion in Europe, Istanbul and Japan, and he has also appeared as soloist with Sir John Eliot Gardiner in Berlioz L'Enfance du Christ, Handel's Israel in Egypt (both BBC Proms), Bach's B Minor Mass, Haydn's Nelson Mass and the Odes and Masques of Purcell. He broadcast the role of Gobryas in Handel's Belshazzar with Robert King and sang Elgar's Dream of Gerontius in
Ely and Rochester cathedrals, and the Smetana Hall (Prague;) a further performance was given in the Usher Hall, Edinburgh, as was Mahler's Eighth Symphony, also performed at the Royal Albert Hall. Other recent performances have included Verdi's Requiem, the Passions of J.S. Bach, Rossini's Petite Messe… and Brahms' Requiem.
He has issued a series of recordings with Naxos featuring the Mélodies of Widor, Vierne and Tournemire. A book – Prophets without Honour… discussing these mélodies, is also available.  A further book, Visions of Eternity… dealing with the choral and operatic works by these same composers, is due for publication in 2016. 
Other commercial recordings include Purcell's The Fairy Queen, Chausson's Le Roi Arthus, Tovey's The Bride of Dionysus, Lydia Kakabadse's The Phantom Listeners and Michael Hurd's The Widow of Ephesus. 
Having premièred works by Hardy, McGuire, McDowall, and also Sharriff's opera Golem 13 (in Prague), as well as having broadcast the roles of Olin Britt (Music Man), Mr. Lindquist (A Little Night Music) for BBC Radio 2, demonstrates that he is as at home in contemporary music as he is with 'lighter' music.