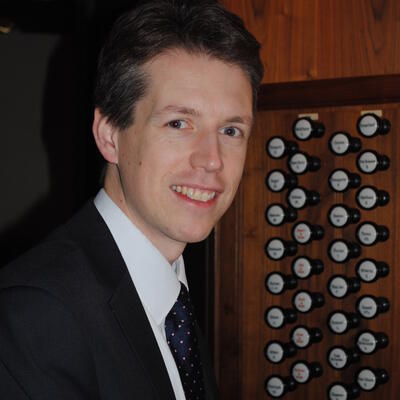 Organist
Julian Thomas is Choirmaster and Head of Academic Music at Tonbridge School. He began his musical training as a chorister at Salisbury Cathedral and then as a music and academic scholar at Charterhouse, before going up to Cambridge as Organ Scholar at Jesus College. After graduating, he moved to Lincoln Cathedral as Second Assistant Organist, becoming a prize-winning Fellow of the Royal College of Organists in 2000.
For the next six years, Julian was the Assistant Organist and Director of the Girls' Choir at Norwich Cathedral, during which time he regularly appeared on both radio and television accompanying and conducting choirs. In addition to this, he also directed the Edington Music Festival, including overseeing the 50th festival and a number of significant choral commissions. 
As a recitalist, he has performed recently at Gloucester, Portsmouth, Southwark, Norwich and Westminster Cathedrals, Westminster Abbey, St Lawrence-Jewry and the Temple Church, London. His Christmas carol The Lord at first hath Adam made (Encore publications, 2010) has received a number of performances, including by London Concert Choir, and appears on a CD recording by Canticum. He is also Music Director of the North Downs Consort, a post which he took up at the start of this year.