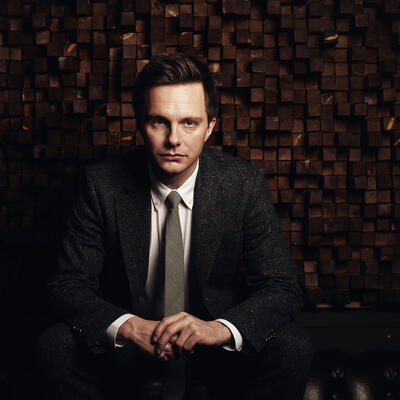 Organist
James McVinnie pursues a diverse career as an organist, keyboardist, ensemble player and teacher. He was until recently Assistant Organist of Westminster Abbey, where he played for regular services as well as directing the Abbey Choir. Whilst at the Abbey he also played at many great State occasions, including the recent Royal Wedding. He held Organ Scholarships at St Albans Cathedral, and Clare College, Cambridge (where he studied music). In 2006 he became Organ Scholar and then in 2007 Acting Sub-Organist of St Paul's Cathedral. He currently holds organ teaching posts at Cambridge University and Tonbridge School and is also Director of Music at St Andrew's, Holborn. He studied the organ with Sarah Baldock and Thomas Trotter, and continues to study with Hans Fagius in Copenhagen.
As organ scholar at Clare College, James performed throughout the UK, Europe, the USA, and the Far East in addition to appearing as their accompanist on numerous acclaimed recordings. He also acted as chorus master to the College Choir on several occasions, notably during a six-week European tour of Handel's Messiah with the Freiburg Baroque Orchestra and René Jacobs as conductor. During this time he also toured Australia as a harpsichordist with Baroque Violinist David Irving. In October 2006 he recorded his first solo disc of S.S. Wesley's organ music on the 1873 Willis organ of St Michael's, Tenbury, for Naxos. He also appears on recordings by the St Albans Abbey Girls Choir, the National Youth Choir of Great Britain, the Cardinall's Musick, and the King's Consort. He is also a regular accompanist to the BBC Singers. 
In summer 2009 James made his solo debut in the Salzburg Festival with the Freiburg Baroque Orchestra conducted by Ivor Bolton, performing Handel's Organ Concerto Op 7 no 5 during a staged production of Handel's oratorio Theodora. As a soloist he has recently performed in the Westminster Abbey Summer Organ Festival, venues across Russia, the City of London Festival, the Oundle International Festival, the opening recital of the Holmens Church International Organ Festival, Copenhagen, and most recently the opening concert of 'MusicNOW', the contemporary music festival in Cincinnati. As a continuo player with leading ensembles and musicians he has appeared at the Munich Opera Festival, the Innsbruck Early Music Festival, the Lufthansa Festival of Baroque Music, the Encounters Early Music Festival at the Southbank Centre, the Aldeburgh Festival and the 2010 BBC Promenade concerts. He has also collaborated in concerts with composer Nico Muhly, violist Nadia Sirota and singer-songwriter Sufjan Stevens and folksinger Sam Amidon. New music plays a central part in his repertoire; Nico Muhly, Graham Ross, Robert Walker, Richard Reed Parry, Shara Worden and David Lang (winner of the 2008 Pulitzer Prize in music) have written works for him.