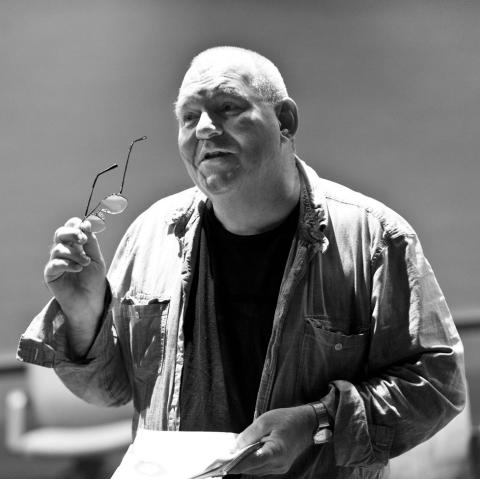 Stephen McNeff was born in Ireland and brought up in South Wales in a family with no particular musical background or connections. He became interested in music only at the age of fourteen after he saw a TV programme about Debussy. Fortunately he had an inspiring grammar school music teacher who helped him get to The Royal Academy of Music to study composition. After a number of years working as a theatre composer and six years in Canada, first as Composer-in-Residence at the Banff Centre and then as Artistic Director of Comus Music Theatre in Toronto, he established his name in the UK, first through his film noir operatic version of The Wasteland (1994), along with his scores for the Unicorn Theatre (including plays adapting the Beatrix Potter stories), and his music for wind band, for instance, Ghosts (2001). 
In 2004 the success of his opera for young people Clockwork, based on Philip Pullman's book, and staged at the Linbury Theatre, Royal Opera House, widened his reputation,
as did his appointment the following year as the Bournemouth Symphony Orchestra's 'Composer-in-the-House', a scheme initiated and funded by the Royal Philharmonic Society and the Performing Right Society Foundation. McNeff approached this role very much in the tradition of an 18th century Kappellmeister, and as well as composing works for the BSO, such as Heiligenstadt (2005), Secret Destinations (2005–6), Sinfonia (2006–7), all conducted by Marin Alsop, and the choral and orchestral Weathers (2007), for the Bournemouth Symphony Chorus and the BSO, there were pieces for Kokoro, including Strip Jack Naked (2007) and Lux (2008), the BSO's brass ensemble, Fantasie on an English Air (2008) and its education ensembles, the Mini BSO and BSO Resonate Strings - Bitterne Variations (2005) and A Journey South (2008) respectively. The relationship has continued with The Chalk Legend which has also spawned a series of smaller works for amateur musicians across Dorset, including Bob the Fiddler (2011) for choir and ensemble which was broadcast on BBC Radio 3 as part of its 'Music Nation' celebration. 
McNeff's theatrical work has also flourished with the operas Gentle Giant (2007), drawn from a Michael Morpurgo story, commissioned by the Royal Opera, and Tarka the Otter (2005–6) which won a coveted British Composer Award in 2007. His new orchestration for smaller forces of Debussy's Pelléas et Mélisande (2009) won warm critical praise. He is currently working on two further operatic projects, one based on Giles Foden's novel The Last King of Scotland and the other on Juan Rulfo's novel Pedro Páramo. Last year Seven for a Secret, a ballet commissioned by Rambert Dance Company, freely adapted from Ravel's L'enfant et les sortilèges was premièred at Sadler's Wells Theatre and extensively toured. 
In 2010 his percussion concerto, ConcertO Duo, conceived for the ebullient percussionists Owen Gunnell and Oliver Cox, and jointly commissioned by the Borletti Buitoni Trust and BBC Radio 3, received its première at the 80th anniversary concert of the BBC Symphony Orchestra, conducted by David Robertson. 
Several of McNeff's works are available on CD, including his Four Tales from Beatrix Potter with Imelda Staunton, the BBC Concert Orchestra, conducted by Clark Rundell (Chandos), Baristas (2004) performed by O Duo (Campion Classics), the Clarinet Concerto, played by Linda Merrick, and a song-cycle for soprano and wind band, Image in Stone (both on Cameo). In the autumn a CD of his Italian inspired music featuring Madrigali Dell'Estate performed by Clare McCaldin and Andrew West will be made for Champs Hill Records, and in July McNeff's 'Composer-in-the-House' residency with the BSO will be marked by a CD recording, conducted by Dominic Wheeler, for Dutton Epoch, of orchestral and choral works composed through this highly successful relationship.